Listing 10 unique things to do in West Cork, from a locals perspective. I'm a Cork girl through and through and I may be biased but Cork is the prettiest place in Ireland in my humble opinion!
Having spent most of my childhood Summers' in West Cork, it certainly holds a lot of nostalgia for me. West Cork is one of my favorite regions in Ireland and certainly one of the most beautiful. There are lots of things to do in West Cork from exploring unique islands, driving the famed Wild Atlantic Way or relaxing at one of the many beaches.
10 Unique Things to do in West Cork
Armed with the information below, I hope you're ready to explore West Cork. It trully is a spectacular and unique part of Ireland. Off you go to tick these things to do in West Cork off your list.
The things to do in West Cork are endless – but if I'm honest West Cork has the best beaches in Ireland so visiting those is a priority! In this blog, I list 10 of my favorite things to do in West Cork!
Catch the ferry from Bantry to Whiddy Island
Explore the grounds of Charles Fort in Kinsale
Stroll around stunning Sherkin Island
Visit Mizen Head
Enjoy a michelin-star meal at The Bulman in Kinsale
Visit some of Ireland's best beaches
Catch the cable car to Dursey Island
Clonakilty Model Railway Village
Drive the Wild Atlantic Way
Take a scenic walk in Glengarriff
If you want to find out how you can move to Ireland – my blog post lists every single bit of information you'll need!
What is the nicest part of West Cork?
It's a tough question, but my favorite things to do in West Cork include a foodie tour of Kinsale, visiting Sherkin Island, catching the cable car to Dursey Island and of course driving some or all of the famed Wild Atlantic Way!
There are of course many excellent beaches in West Cork including Barleycove, Inchydoney and Garrettstown!
What is there for families to do in West Cork?
West Cork Model Railway Village in Clonakilty is a fantastic option for families looking for something a little different. An outdoor fully scaled handmade model of the old West Cork Railway featuring model buildings of the town as it looked in the 1940's. Kids too love to explore the grounds of Charles Fort in Kinsale to hear about the ghost of the white lady who is said to still haunt the area today!
1. Catch the ferry from Bantry to Whiddy Island
The ferry from Bantry Pier to Whiddy Island takes just 10 – 15 minutes. Whiddy Island is located in one of the world's deepest harbours and known locally as the hidden gem of West Cork.
If you're feeling a little more adventurous why not hire your own speed boat to Whiddy Island. This is available from Bantry Bay Boat Hire. I did this last year with some friends for my Hen Party and it was so much fun!
Whiddy Island features a lovely 3 hour walk which is part of the Sheep's Head Way walking route. This walk covers small hills, beaches, and roads. Or if you don't fancy walking, you can hire a bike from the Bank House bar.
The Bank House Bar is a lively venue on weekends in the Summer, where live Irish music bands play in the sunshine.
2. Explore the grounds of Charles Fort in Kinsale
Just outside the colorful town of Kinsale lies the historic Charles Fort. A 17th century star-shaped fort, associated with some of the most momentous events in Irish history.
There is small visitor's center here, with audio and visual exhibits for a self-guided experience. Or you can arrange a guided tour which lasts about one hour. The entrance to Charles Fort costs €2.50 per person.
Are you interested in ghost stories? Then watch out for the ghost of the White Lady. According to local legend, a local soldier had to go on patrol of Charles Fort on his wedding night. He arrived at the fort drunk after his wedding celebrations and fell asleep on watch. He was shot for abandoning his post, and his grief-stricken bride threw herself from Charles Forts' walls when she was informed of his death. She is said to still haunt Charles Fort to this day.
Another very popular historic site in Cork is Blarney Castle and Gardens, located just under 15 minutes from Cork City.
3. Stroll around stunning Sherkin Island
A short 10-minute ferry journey from the town of Baltimore and costing €12. The unique island of Sherkin, despite its small size offers much to visitors. At just 3 miles long and with a population of approximately 100, Sherkin Island is also know as West Cork's island of the arts. Many residents of Sherkin Island make a living from their art including painting and writings.
With beautiful sandy beaches, four different walking paths catering to all abilities and even two restaurants – Sherkin House & Jolly Rogers. There is plenty to fill your day on Sherkin Island. Plus, if you fancy staying the night you can choose from Sherkin House (with its 21 ensuite bedrooms) or one of the locally-run B&B's.
From Baltimore you can also book on this excellent boat tour to Cape Clear Island and Fastnet Rock Lighthouse. Cape Clear is a bigger island next to Sherkin and is a fanous Gaeltacht region (residents here speak Irish!).
4. Visit Mizen Head
Mizen Head is the most Southwesterly point in Ireland and is located in the region of Carbery in West Cork. Whilst here, why not be brave and cross the iconic bridge – where below in the crashing waves you may spot seals and their pups. On a clear day you may also be able to see dolphins and whales frolicking in the Atlantic ocean. Entrance to Mizen Head is  €7.50 per adult.
From Cork City you can book on this highly-recommended tour to Mizen Head, which includes visits to Clonakilty, Bantry, Gougane Barra and Mizen Head!
5. Enjoy a michelin-recommended meal at The Bulman in Kinsale
You can't miss The Bulman, pained bright orange and with an excellent location in Summercove overlooking Kinsale Harbour. Despite its playful exterior, The Bulman serves up some of the best food in Cork. With numerous awards under its belt, its worth reserving a table in advance especially during the busy summer months. Be sure to order a seafood dish, the seafood is so fresh and most is locally caught. After dinner, take your drinks outside to enjoy the sun setting over Kinsale.
6. Visit some of Ireland's best beaches
West Cork is well-known for having the best beaches in Ireland. From the surfing beach of Garrettstown to extraordinarily long Inchdoney beach, there's certainly a beach in West Cork for everyone.
Barleycove beach – often named by the media as the 'most beautiful beach in Ireland'. Located a 20 minute drive from the town of Schull, and backed by numerous sand dunes – Barleycove is certainly a spectacular beach.
Inchydoney beach – a whopping seven miles in length, Inchdoney is especially popular with overseas visitors. This is popularity is probably due to the stunning Inchdoney beach hotel which overlooks the beach.
Garrettstown beach – a popular surf beach, you can try your hand at surfing with G Town Surf School . Garrettstown is also very popular with local families, as it is one of the closest beaches to Cork city. Grab some food and refreshments from the food trucks along the beach or walk to Stranded Cafe for a sit-down lunch.
If you want to explore some of West Cork's best beaches from a different angle why not consider this kayaking tour which takes you to hidden beaches and sea caves!
7. Catch the cable car to Dursey Island
Dursey Island is one of the few inhabited islands in Ireland. Dursey is situated at the western tip of the Beara Peninsula in West Cork and is just 6.5 km long and 1.5 km wide. The island is separated from the mainland by a narrow stretch of water called the Dursey Sound, it has become famous as it is connected to the mainland by Ireland's only cable car. The journey costs just €10 return per adult.
Dolphins and whales are regular visitors to the Dursey Sound, so, be sure to keep an eye out on your cable car journey. If you're a bird-watcher, then, Dursey will be heaven for you – there are thousands of seabirds to be seen.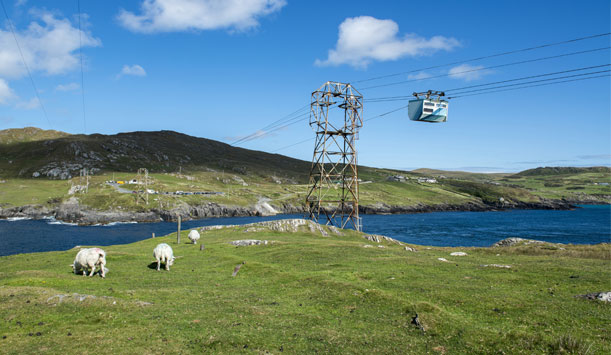 8. Clonakilty Model Railway Village
West Cork Model Railway Village is a fantastic option for families looking for something a little different. An outdoor fully scaled handmade model of the old West Cork Railway featuring model buildings of the town as it looked in the 1940's. Entrance to the Model Village costs from €7.65 per adult.
There is also an indoor soft play area and an outdoor playground. Or why not take a trip on the Road Train – what better way to see the town of Clonakilty than on a quick 30 minute train ride.
9. Drive some of the Wild Atlantic Way
The Wild Atlantic Way runs from Kinsale in West Cork to County Donegal. At 2500 km in length, it is the worlds longest coastal driving route. If you don't fancy driving yourself you can book this luxury guided tour from Cork City that includes stops in Kinsale, Timoleague, Castlemartyr and Cobh.
Why not spend a full-day driving some of the route in West Cork stopping in some gorgeous towns and villages along the way. Start with breakfast at the Lemon Leaf Cafe in Kinsale, then, drive the short 30 minutes to Clonakilty for a stroll around its quirky shops. Then, onwards to Rosscarbery, Skibbereen and Baltimore. Stop for lunch at Bushes Bar in Baltimore. Then, onwards to Schull, Bantry & Glengariff. For dinner, I recommend the Brick Oven in Bantry for the "best pizza in Cork. Spend the night in one of the towns or drive back to Kinsale.
10. Take a scenic walk in Glengarriff
Glengarriff also know as the Rugged Glen, is a paradise for hikers of all abilities. Walks in and around Glengarriff feature some of the most beautiful scenery in Ireland.
The Glengarriff Woods Nature Reserve is a a lovely mature oak woodland in the heart of the old Glengarriff valley. There are many picnic areas and several viewpoints within easy reach along the trail. Perhaps the best lookout point on the trail is Lady Bantry's Lookout, which gives a panoramic view across Bantry Bay and up to the Caha Mountains. 
The Blue Pools is a short walk from the Main Street of Glengarriff village. You can access the blue pool beside Quills in the centre of the village. The Blue Pools has many trails and walkways through a magical forested area with beautiful views of the harbour. If you walk beyond the Blue Pool itself you reach an area known as The Point. Here, there is a diving board and a beautiful sun-drenched bathing area. There's also a pontoon for you to swim off.
If you're after the best holiday homes to rent in Ireland then I've got you covered.
Read more on this topic | a visit to gorgeous Ballyhoura and why you should add it to your bucket list
Where to stay in West Cork
Thanks for reading my blog!
P.S if you're planning a move to Cork I've written a detailed blog post about renting in Cork that you may find helpful!
Like this post? Please PIN IT for later!
https://www.pinterest.nz/pin/441634307211175360/