Listing 5 of our favorite (unique) things to do in the Cinque Terre.
The Cinque Terre is a beautiful place, famous for its colorful villages built upon steep rocks with the Mediterranean sea crashing below. But despite Cinque Terre's obvious charms many people still miss out on the great things to do here. Unfortunately, most tourists tend to visit on a day-trip and don't get the opportunity to fully explore the region.
There's actually a hell of a lot of great and cheap activities to do in the Cinque Terre. So, if you're backpacking in Italy – this list is ideal for you!
In this blog, I'll give you a detailed account of five of the most unique things to do in Cinque Terre.
P.S. I've also written a detailed blog post on this topic – what the guide books won't tell you about the Cinque Terre
1.  Hike the famed Cinque Terre trail
There really is no better way to see the Cinque Terre than to hike the beautiful trail connecting all 5 villages. Some parts of the trail are very easy to hike, especially the paved section connecting  Riomaggiore to Manarola. While other sections of the trail are quite hilly – a moderate level of fitness is highly recommended. There is stunning coastal views everywhere you look and soon you will find the 6 hours will turn to 7 because you will be continually stopping to take photos.
Very important to note – is that due to the trail being along the side of a cliff for the most part. Sometimes, parts of the trail can be closed due to rockfall or other reasons. It is best to check this PDF to ensure you are up-to-date with any trail closures.
Do yourself a favour and wear good walking shoes as the trail can be rocky in parts. If you try to walk the trail in flip-flops (which I saw people do in the past) you will likely be stopped by one of the men in the control booths along the way.
You can book a guided hike which will take you through the trails surrounding Vernazza, Manarola and Riomaggiore with an experience guide. Or this half-day hiking tour which also includes a wine tasting in a vineyard!
Start the Cinque Terre trail early and finish early to avoid the crowds
We recommend starting the trail early in the morning during the Summer months as it can get crowded after 10am. You will also be thankful to avoid the afternoon heat if you start early. If you want to start very early i.e 7am then you will need to buy the Cinque Terre hiking card the day before as the ticket booths typically don't open until 9am.
Where to buy a Cinque Terre card
At all railway stations in the Cinque Terre's villages
In the beginning of every section of the trail there will be a control booth
At tourist information centre – these are typically located within the train stations
How much does the Cinque Terre card cost?
For the hiking card it costs 7.50 per adult
For the hiking and train card it costs 16 per adult. This means all your train travel for the day will be covered with this card. Which is very useful, if you decide you've had enough of hiking half-way and want to hop on a train to the remainder if the villages.
How long does it take to walk the Cinque Terre trail?
The hiking trail is 11km start-to-finish and takes approximately 6 hours.
2.  Spend a few hours in Portofino
Mingle with celebrities in one of Italy's prettiest most-exclusive towns. Think Lake Como by the beach. But luckily, Portofino is not just for the rich & famous there are plenty of things to do in Portofino for the 'common folk' like us. One of our favourite things to do is sit in the Piazetta and order a coffee or glass of wine and watch the traditional fishing boats come & go.
Or opt to go further afield into Tuscany and spend the day strolling through beautiful Tuscan Villages. The train to Tuscany takes 2.5 hours each way from Cinque Terre.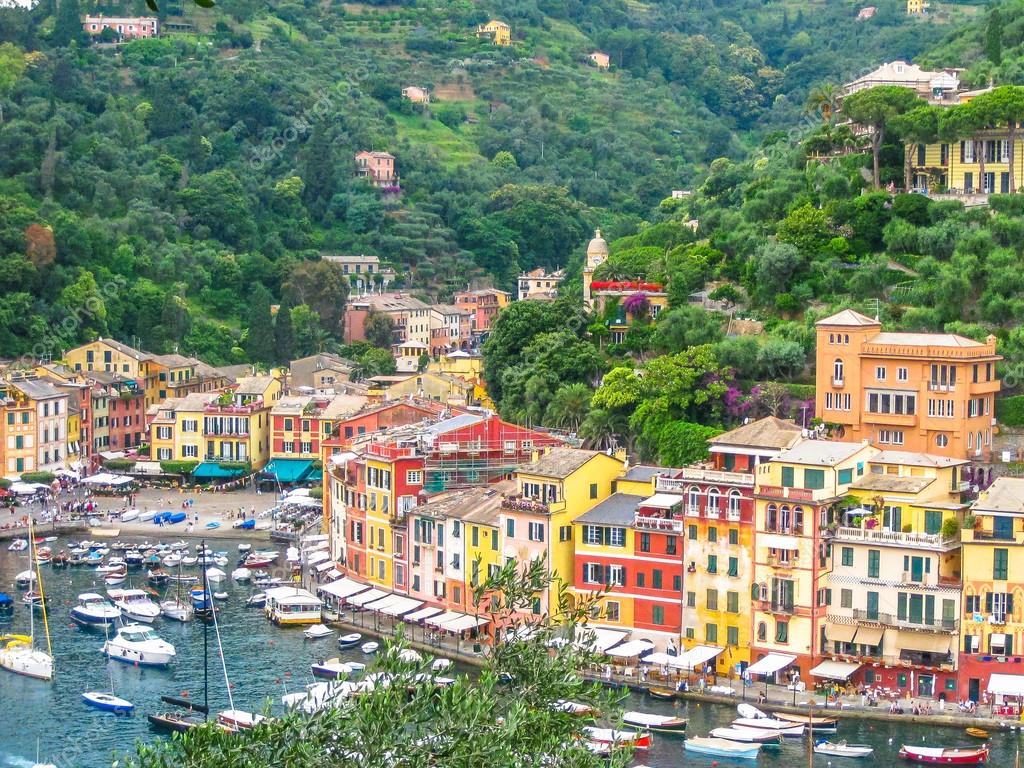 The best view of Portofino is from Castello Brown
About a 15 minute walk uphill from the centre of the town of Portofino, you will come upon Castello Brown. You can visit the inside of the Castello if you wish. Or simply admire the colourful village of Portofino below and the glistening sea beyond.
Take a boat trip through Portofino's waters
And spy celebrities villas from afar. Take in the peace & quiet on the water – away from the bustle of Portofino town and discover secret corners not possible from land. This luxurious boat tour can be booked as a full-day or half-day.
Treat yourself to a cocktail at Hotel Splendido
Should you wish to treat yourself than a cocktail at the very grand Hotel Splendido is a must. An enviable view amongst Italy's elite is surely a memory to cherish. If you're after a real treat, why not pend the night at Hotel Splendido – it's consistently voted as one of the best hotels in the world.
How can I get to Portofino?
Get the train to Santa Margherita Ligure Portofino (from Monterosso this is approximately an hour). From this train station you need to catch the 82 bus to Portofino – this journey should take 15 minutes . Or you can book a private transfer.
3.  Hire a boat for the day (or even a few hours)
Want to see the gorgeous Cinque Terre from the water then why not hire a boat for the day. Taking a group boat tour on one of the 'gozzo' or small fishing boats of the Cinque Terre is an experience not to be missed. Catch some fish Cinque Terre style. Or just sip some beers or champagne on board while admiring the stunning scenery. Your tour will typically take you to secluded beaches and sea caves.
A shared trip costs approximately 60 per person and is approximately 2 hours & 30 minutes. This price includes drinks on board too. This is one of the most popular boat tour options and includes stops at Riomaggiore and Monterosso.
Alternatively, enjoy a sunset cruise and dinner on board a private boat and enjoy the best of Cinque Terre by sea.
All available Cinque Terre boat tours here: Cinque Terre Boat Tours
4.  Have lunch with a view at Nessun Dorma
Possibly the best view from a restaurant you will find in the entire world. Nessun Dorma is perched high on a cliff overlooking the town of Manarola. Serving only antipasto platters and salads (no pizza or pasta here I'm afraid). Nessun Dorma is insanely popular, they don't take bookings.
Did you know that pesto originates from this region? Why not book a Pesto Cooking Class that takes place in the nearby city of La Spezia.
Can you reserve a table at Nessun Dorma?
Advance bookings are only for large groups. You will have to queue for a table and its first come first served. We recommend getting here as soon as it opens. Or at 'off-peak' times like 3 or 4pm.
How expensive is Nessun Dorma?
It's very reasonable priced considering its view they could charge a lot more. But then again they specialise in simple dishes like bruschetta and meat platters so this keeps the menu cost down. Expect to pay 25 each for lunch for two including a drink.
5. Enjoy the best view from a secret spot
Travel tip – the best views of the entire Cinque Terre is from Manarola Cemetery
Manarola cemetery is located just above Nessun Dorma. So, if you can't get a table at Nessun Dorma then here is a great spot to admire the famous Cinque Terre scenery. However, because it is a graveyard and a very sacred place – you CANNOT take photos here. Simply, take in the view and move on.
The Cinque Terre it's a special place. One of my all-time favorite destinations. That's a big feat considering I've visited over 40 countries. In fact, I'll let you in on a little secret – we adore the Cinque Terre so much we got married here in August 2019.
Some other top suggestions would be to have dinner at Billy's in Manarola, walk the many nooks & crannies of Monterosso old town, enjoy some excellent gelato & have a beach day at Monterosso beach.
How long should you spend in Cinque Terre?
3 – 5 days is the perfect amount of time to spend in the Cinque Terre, by spending a couple nights here you will have time to explore all 5 villages as well as do a couple of fun activities. You could even split your nights between two villages for example 3 nights in Monterosso and 2 nights in Manarola, like we did.
Which is the most beautiful village in the Cinque Terre?
Manarola is the most famous village in the Cinque Terre and you will probably recognize it immediately from Instagram – it's so pretty with its pastel-colored houses and rocky pier. But, the other 4 villages are equally as pretty in their own way.
Monterosso is a pretty beach destination and is the biggest village (it's more like a town) and has an old and new village. Corniglia is the most unique village in the Cinque Terre and is perched high on a cliff, there is no water access from Corniglia so it's more reminiscent of a mountain village. Vernazza is probably the second-most recognizable village and has a very picturesque pier area as well as many great small hotels. And finally, Riomaggiore is a fishing village and is more traditional than the others and has more of a "local feel"
What is the best time to visit Cinque Terre?
September is the best month to visit the Cinque Terre as the weather is still warm but the Summer crowds have left. May is another great month to visit Cinque Terre as again, it is quieter than the other Summer months. August is the busiest month in this region, so, I would avoid visiting then if possible.
Where to stay in the Cinque Terre!
In Monterosso – we highly recommend Hotel Villa Adriana (one of the largest hotels in the Cinque Terre and it has an outdoor pool). It is located in the new town of Monterosso. Mia Chi is also highly recommended and has stylish large rooms, it's also located in the new town of Monterosso.
In Manarola – La Torretta has stylish rooms all with sea views and a hot tub. Acla Apartments are a fantastic self-catering option.
In Vernazza – Casetta de Vernazza is just 300 meters from Vernazza beach and has a terrace and garden. Lassu Apartment has excellent sea views and also comes with a terrace.
In Riomaggiore – Allo Marina Affiticamere is in a historic building and was recently renovated, it is located right in the heart of Riomaggiore village. Hotel Due Gemelli is set on a hill overlooking Riomaggiore, it is 700 meters from the center of the village – the views are fantastic!
In Corniglia – Affiticamere La Terraze has comfortable and homely rooms and is right in Corniglia village. Ostello Corniglia is an affordable hostel option that also has a bar, shared lounge and garden.
You can view all available accommodation in Cinque Terre here.
Thanks for reading my blog, Aimee x
Tell me, what did you think of our five unique things to do in the Cinque Terre? Is there anywhere we missed that you think should be included? We'd love to hear your recommendations in the comment section below!
I've also written lots more blog posts on Cinque Terre including what village in the Cinque Terre to stay in; how to get to the Cinque Terre and planning our wedding in Cinque Terre.
PIN IT for later!