Listing 14 of the best cafes on the South Island of New Zealand. From a historic building on the edge of Lake Wakatipu to a cafe next to an airport where you can watch fixed wing planes take off and land whilst you sip your hot brew. These are the very best cafes on the South Island!
If you're on a South Island roadtrip you must include these awesome Cafes on your itinerary!
READ NEXT | 10 of the best Cafes on the North Island
The Boat Shed, Frankton
On the shores of Lake Wakatipu, just a 10 minute drive from Queenstown is the gorgeous history-rich Boat Shed. The building dates back to 1869 and was originally used as a store, over the years it fell into disrepair until 2011 when a group of volunteers began restoring it.
Personally, I live across the road from the Boat Shed and visit often for excellent coffee and brunch. They also serve lunch, or why not enjoy a beer or wine on the outside seating on a nice day.
Address | 847 Frankton Road, Frankton Marina 
Website | https://www.boatshedqueenstown.co.nz/
Market Kitchen Cafe, Skyline Gondola, Queenstown
Easily the best views in Queenstown, high up above the town. You need to ride the famous Skyline Gondola to get here – the gondola ticket is pricey so ensure you make a day of it and go for a walk and indulge in a fun luge ride. At the cafe ensure you take a seat outside on the balcony for the view. They serve good coffee and hot food and cakes.
Website | see here
Kinloch Lodge Cafe, Kinloch
Located in Kinloch a 20 minute drive from Glenorchy and on the shores of Lake Wakatipu. Open for breakfast and dinner only, reservations are recommended. Excellent coffee, and locally sourced produce makes this a must-stop near Queenstown. 
Grain & Seed Cafe, Cromwell
A charming, locally-run cafe right by Lake Dunstan in the Cromwell Heritage Precinct. Serving great coffee, yummy sandwiches and other lunch items. Take a seat by the window and look out onto the lake.
Address | Old Cromwell Town, Melmore Terrace Phone | 03 445 1077

Facebook | click here
Water Bar, Wanaka
On a sunny day or any day for that matter, you can't beat the view from here. Right across the road from Lake Wanaka – Water Bar can get very busy in the evenings (especially at happy hour) due to the epic sunsets over the lake the area is blessed with. But during the day, it has a more chilled vibe. Make sure to get a seat outside. Serving pub-style food, drinks and of course coffee. 
Address | 145 Ardmore Street, Wanaka 

Website | www.waterbarwanaka.co.nz/
Astro Cafe, Lake Tekapo
On the summit of Mount John, you can drive up to the Cafe or walk from town the path starts from the small carpark next to the ice rink in Tekapo. The walk takes about 90 minutes round-trip. At the Astro Cafe you will be rewarded with an excellent view of Mount Cook and the other stunning scenery of the Mackenzie region.
Astro café offers a wide selection of drinks and barista-made coffee. To eat there's a range of savoury and sweet options to suit everyone. Their Saturn themed cappuccino and popular carrot cake are always a favourite amongst visitors, although nothing compares to the views on offer!
Address | Astro Café is located at the summit Ōtehīwai, Mt John. Access is from Godley Peaks Road, off State Highway 8 between Tekapo and Lake Pukaki. An $8 per car road-user fee applies (payable at gate – cash, EFTPOS and Alipay available). This fee contributes to the ongoing maintenance of the access road.
Website | https://www.darkskyproject.co.nz/
Pink Glider Cafe, Omarama
Tucked away down next to the airport in Omarama. Sit outside and watch the small planes take off and land. When the planes aren't taking off, it is gorgeously quiet. The service is super-friendly and food-wise there are lots of hot and cold selections. Great coffee too of course. 
Address | 68 Airport Road, Omarama 

Website | See Facebook page here
Cafe Saint Clair, Saint Clair, Dunedin
Attached to the Salt Water pools at the edge of stunning Saint Clair beach. With gorgeous sea views, the Cafe offers light food items and coffee. Make sure to take a long stroll along Saint Clair beach after and spot the surfers and maybe even some seals if you're lucky.
Address | 1 Second Beach Road, Saint Clair 

Phone | 03 455 8463
Point Cafe & Bar, Kaka Point
Right beside the sea in Kaka Point a little town on the Northern edge of the Catlins. The town gets a lot of tourists due to its close proximity to the famed Nugget Point Lighthouse. At the Point Cafe they pride themselves on the freshness of their seafood, but if you don't fancy seafood they will cater for all tastebuds. They also serve locally brewed beer from Norman MacLeod, Catlins Brewery.
Address | 58 Esplanade, Kaka Point 

Website | https://www.thepointcafe.co.nz/
Moeraki Boulders Cafe
With panoramic views from the restaurant across to the picturesque Moeraki village and down to the Moeraki Boulders. Serving a varied selection from gourmet sandwiches and 'New Zealand's best' seafood chowder. There's also a cosy open fire for those colder days.
Address | 7 Moeraki Boulders Rd, Palmerston 

Website | https://moerakiboulders.co.nz/
---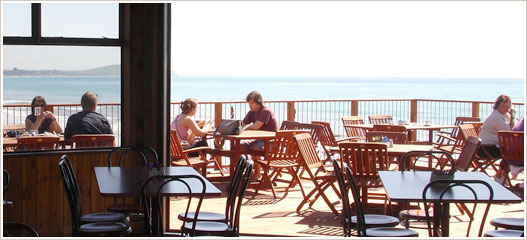 Jellyfish Cafe, Mapua
A seaside Cafe right on the jetty in Mapua, the views from here are honestly million dollar worthy. Serving up fresh seafood and other yummy items such as burgers, gnocchi and salad. And not forgetting excellent coffee. This place is extremely popular with locals & reservations are recommended for dinner.
Address | Shed 1, Mapua Wharf, Nelson

Website | click here
Galley Cafe, Oamaru
Situated right on the waters edge in scenic Oamaru and right next to a playground for the kids. This family-friendly Cafe serves up breakfast, lunch & dinner and a cabinet filled with yummy homemade goodies if you're after something lighter. Excellent coffee too!
Address | 1 Esplanade, Oamaru

Facebook | click here
Gebbies Garden Cafe, Christchurch
Serving up great coffee, baked goods and lunch in the peaceful countryside on the way to Akaroa from Christchurch. With a lovely fireplace for those colder days. Also worth noting is it caters well for gluten-free clients. A top recommendation from other diners is to try the Salmon Eggs Benedict! This is a family-friendly Café and a great stop after a hectic day of family-friendly activities in Christchurch.
Address | 1683 Christchurch Akaroa Road 

Website | www.facebook.com/GebbiesGardenCafe/
Sign of the Kiwi, Christchurch
High up off the main road, with an excellent view of Port Hill, Lyttleton Harbour and the Christchurch area. The drive up is winding and steep – so keep your eyes on the road. The Sign of the Kiwi cafe is located in an old stone building, steeped in history. Serving up hot and cold drinks, baked goods as well as hot breakfast and lunch items. Ensure to take a walk on the Harry Ell walk and beyond the cafe to the top  of Sugarloaf.
Address | 2057 Summit Road, Christchurch 

Website| Facebook page here
And there you have it 14 of the very best cafes on the South Island of New Zealand – all with excellent views and brews. Tell me – did I forget anywhere from this list? I'd love to hear if I have in the comment section below!
Here are the very best airbnb's on the South Island
Fancy a unique stay on the South Island? Well, these are the absolute coolest airbnb's I've ever seen. Honestly, click on the links below to see them in all their glory!
| airbnb name | where | book |
| --- | --- | --- |
| High Country Cabin | Ohau, Otago | See more here |
| Luxury Glamping | Moke Lake, Queenstown | See more here |
| Stay on the steepest street in the world | Dunedin | See more here |
| Modern beachside studio | Christchurch | See more here |
| Cozy tree house | Franz Josef | See more here |
READ NEXT | 24 hours in Queenstown on a budget
PIN IT for later!