Well guys, I did a thing recently and decided to set up my own little business from home. Having my baby daughter Summer last September helped me to put my priorities into perspective and so, working from home was a no-brainer for me.
All of the products I've listed in this blog post have been thoroughly researched by me and I would never ever recommend something I didn't think would work for you. If you like the sound of something on this list please click on the relevant link below and buy from me (I will get a small commission from your sale so that I can continue with my avoidance of going back to a 9-5 job). To purchase from NuSkin you need to set up a customer account with them (it's free to do and takes less than two minutes) – you can sign up to be a customer with Nuskin here.
If you have any questions at all, or would like more information on more products (there are literally 100's) then send me an email at [email protected] or drop a comment below and I will get back to you.
**All of the links below include a 25% discount!
1. Tinted Moisturizer with SPF
This Tinted Moisturizer is a lovely formulation and feels really nice on the skin. It also contains an array of anti-ageing ingredients which will reduce the appearance of fine lines and wrinkles and help tighten sagging skin.
It gives medium coverage with a matte finish. It also contains anti-oxidants to give you protection.
It comes in a variety of colors from Beige to Fair to Sand.
Ingredients include: reflecting light, Octinoxate 5%, Octisalate 2% and sunscreen.
BUY NOW –
Tinted Moisturizer for Fair Skin at 25% off here
Tinted Moisturizer for Medium Skin at 25% off here
Tinted Moisturizer in Sand Color at 25% off here
Tinted Moisturizer for Honey Color at 25% off here
2. pH Balance Toner
This pH Balance Toner helps combat free radical damage (free radical damage is caused by the sun, smoking and pollution). It provides a smooth and radiant glow. It minimizes large pores and will help to get rid of blackheads.
Key ingredients include: aloe, sodium PCA, lactobacillus ferment probiotic, and sodium hyaluronate.
You can buy the pH Balance Toner at 25% off here
3. Sunright Insta Glow Tinted Self Tanning Gel
The most popular and affordable product is this self tanning gel, which will give you a tan thanks to dihydroxyacetone (DHA). DHA reacts chemically with the amino acids in the skin to give you that tanned look. Nu Skin Tanner also contains coloring ingredients (Caramel, CI 77891, CI 77491). It will tan your skin in as little as 15 minutes. 
The Tanner is fragrance free.
You can buy the self tanning gel at 25% off here
4. Epoch Glacial Marine Mud Mask
The Glacial Marine Mud helps uses mud particles to draw out dirt and dead skin cells. Unlike a lot of other mud-based products it will not dry out the skin and is in fact quite moisturizing.
Key ingredients include: Maris limus (Glacial Marine Mud) and Algae Extract
You can buy the Glacial Marine Mud Mask at 25% off here
5. LUMISPA
The number one beauty device in the world according to – oh, just about everyone. Most recently it won the NewBeauty Award for Best Cleansing Device. It is in fact the best-selling device here by a long way!
Without a doubt, this is my must-buy and yes I know it's expensive but consider that it will last you a number of years and all the rave reviews it receives.
LumiSpa is a dual-action personal skin care device that works with specifically formulated treatment cleansers to deliver dramatic skin renewal and deep cleansing in a single treatment. 
It really will transform your daily skin care routine. The precise motion and frequency help to thoroughly clean skin, revealing a smoother, softer skin after just one use. LumiSpa uses a soft silicone head along with the cleanser to wash away dirt, oil, makeup, debris and helps you to defy the onset of skin ageing and impart a youthful glow.
BUY NOW –
You can buy the LUMISPA for Normal Skin at 25% off here
You can buy the LUMISPA for Sensitive Skin at 25% off here
You can buy the LUMISPA for Oily Skin at 25% off here
6. AgeLoc Tru Face Essence Ultra
The Tru Face Essence ULTRA helps you avoid that droopy skin look that often occurs as you age. It's unique formulation will help your skin regain its firmness.
One of the key ingredients in this is Ethocyn®, which is a patented ingredient and is widely known for its anti-ageing properties. This ingredient is what will help to give you firmer and more youthful looking skin.
Key ingredients include: silicones, squalane, olive oil, safflower seed oil, dunaliella salina extract, jojoba seed extract, vitamin C, and retinyl palmitate
It is also fragrance free so is ideal for sensitive skin.
You can buy the Tru Face Essence Ultra at 25% off here
7. AgeLoc Transforming Night Cream
Rich hydrating night cream with mild ingredients reducing sensitivity. Continued use will reduce the look of fine lines, wrinkles and pores. It features ageLOC which aids in combating the ultimate sources of ageing. Plus, the ingredients are mild and so ideal for all skin types. The ingredients mimic the skin's own structure, working with its natural night-time renewal process for deeply hydrated, rejuvenated and youthful looking skin.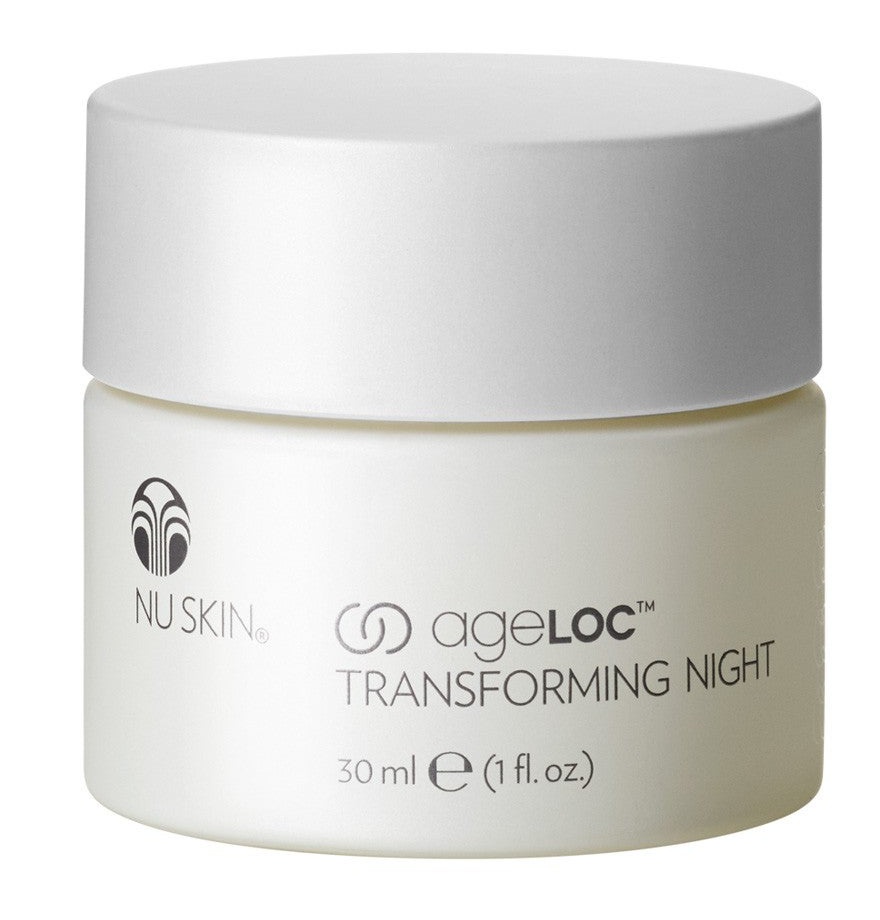 Key ingredients include: Glycerin; Ceramide NP; Squalane and Sodium Hyaluronate
You can buy the AgeLoc Transforming Night Cream at 25% off here
8. Ultra Recovery Fluid
This is an anti-oxidant fluid that combats cellular oxidation (which is 'clogged pores' or 'blackheads' in more simple terms). This award-winning serum cleanses and tones the skin and will give you a radiant glow.
Ingredients include: extra virgin olive oil,
You can buy the Ultra Recovery Fluid at 25% off here
9. Body Smoothing Lotion
A non-greasy formulation that aids in toning and sculpting the skin.
Key ingredients include: NaPCA and hyaluronic acid, Aloe vera, algae extract, and royal jelly.
You can buy the Body Smoothing Lotion at 25% off here
10. 180° Face Wash
This is a rich and creamy face wash that contains 10% Vitamin C. It will address any skin discoloration concerns as well as age spots. And with continued use will reduce the appearance of fine lines and wrinkles.
Because this product has a high percentage of Vitamin C I don't recommend it for sensitive or dry skin types.
Ingredients include: 10% Ascorbic Acid (Vitamin C); Sunflower Seed Oil and Sesame Seed Oil.
You can buy the 180 Face Wash at 25% off here
Thanks for supporting me!
P.S my day job is a travel blogger and I'd love if you could check out some of my blog posts about the U.K. including Brighton, Rye and East Sussex! Plus I have an awesome post about creating a unique gift with Paint Your Life!
If you have Pinterest – PIN THIS image!