I'm going to let you in on our little secret that October is in fact the perfect time to visit Lanzarote. The weather is still warm, the prices are cheaper and the island's many beaches will still be stunning but so much quieter. Why not make your delayed Summer vacation a trip to Lanzarote in October?
Why not read, how we spent a fantastic 5 days in Lanzarote recently.
Read on to find out exactly what the weather is like in Lanzarote in October, what are the best area's to stay and what activities can be done in October.
The weather in Lanzarote in October
With an average high of 26° and a low of 18° in October – the temperatures in Lanzarote sound pretty ideal to me. It's warm but not as hot as the scorching Summer temperatures, so, beachwear during the day and a light cardigan or jumper in the evenings will be ideal. With nine hours of sunshine daily in October – you will be certain to get lots of sun-tanning hours in.
Where to stay in Lanzarote in October
Here I will give a detailed description of the three most popular area's on Lanzarote – Puerto del Carmen, Costa Teguise and Playa Blanca. As well as listing the best hotels to stay in each area.
Puerto del Carmen
Puerto del Carmen is the perfect area to base yourself in October. It is one of the busiest tourism area's in Lanzarote, so, you will still find lots to do in the typically quieter month of October. The 6km stretch of golden sand beach that runs the length of the main town is likely where you will spend most of your daily hours should you choose to stay in Puerto del Carmen – it is a blue flag beach so it is safe to swim here.
There are well over 100 restaurants on the Avenida de Las Playas alone, this is the main street in Playa del Carmen. And all the restaurants and bars here depend on year-round tourism. So, even in October you will have your pick of the restaurants and bars.
In Puerto del Carmen, we highly recommend staying in one of the following stunning hotels:
Costa Teguise
Nicknamed breezy Teguise due to the cooling breeze that blows over the area every so often. Costa Teguise is ideal for families, given it's a little quieter than Puerto del Carmen. Beach-wise – Bastian beach is ideal for families with small children since it is easily accessible and protected from the winds. Jablillo beach is also stunning with its fine white sand.
In Teguise town why not visit the Pueblo Marinero, which is a cluster of typical Canary buildings developed by artist Cesar Manrique. It is home to many restaurants, bars and stores, as well as a market held every Friday from 7pm.
On the Costa Teguise, we highly recommend one of the following hotels:
Playa Blanca
Playa Blanca is both peaceful and stunning, and is the third largest tourism area on the island (behind Puerto del Carmen and Costa Teguise). The Playa Blanca boardwalk is where the majority of the bars and restaurants are located. The recreational port is also worth a visit as there is a large shopping centre here.
The best beaches in Playa Blanca are Dorada, Flamingo and Papagayo. With the latter (Papagayo) being the most popular with its white sandy coves.
In Playa Blanca, we highly recommend these hotels:
What can I do in Lanzarote in October
If you have a rental car, driving in Lanzarote is relatively easy and stress-free. Alternatively, the Lanzarote bus service is very reliable and cheap – you can view the bus timetable here.
Take a day trip to Caleta de Famara
A long, winding road with stunning volcanic scenery on either side will take you to the unique town of Caleta de Famara. Famous for kite-surfing, Famara as it's affectionately known by locals has a more relaxed vibe than other towns on the island. There are a few seafood restaurants here, overlooking the sea, most with a lovely outdoor terrace. A bus ride here from most resorts should cost you €2.50.
Stroll around the capital city Arrecife
We were pleasantly surprised by Arrecife and its white-washed buildings, our favourite area was Charco de San Ginés boat lake which has lots of cool bars and restaurants overlooking the beautiful boat lake. Take your pick of the bars and sit outside with a coffee or a beer.
The Castillo de San Gabriel is located on a tiny island in Arrecife, which can be reached by foot via a small ball bridge. In the 16th century the Castillo played a vital role in the protection of the harbour and the town. It is worth a visit for the views over the Atlantic Ocean alone.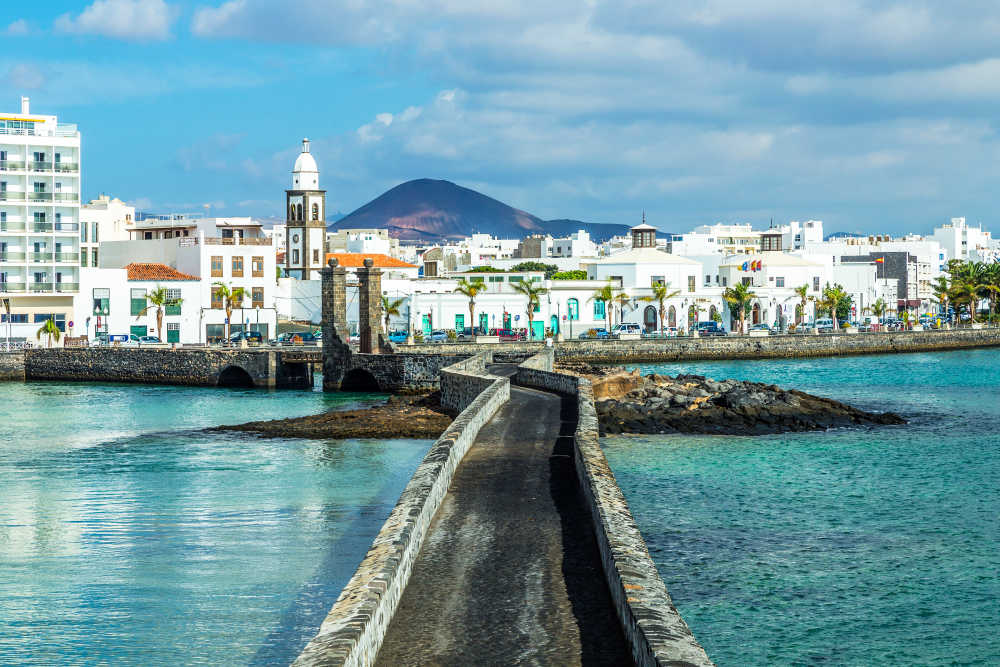 Visit old-school and charming Teguise
The small former capital of Lanzarote has lovely cobbled streets and is a joy to walk around. Every Sunday morning a large market takes over Plaza de San Miguel, it is very popular with locals and tourists alike. There are street entertainers to entertain the kids should you decide to bring them. Another, must-see in Teguise is the castle of Santa Bárbara which stands atop the Guanapay volcano, overlooking the town.
How can I get to Lanzarote in October?
Ryanair and EasyJet (and other European airlines) have announced they will resume regular flight routes to Lanzarote shortly. Hopefully, for a cheap price too!
Whew, and now you've come to the end of my in-depth guide for a vacation in Lanzarote in October. I hope, this will convince you to holiday there in October. After all the madness happening this year, I think we all deserve a short holiday – don't you?
Why not continue reading, the best things to do in Alicante, Spain
PIN IT for later!